3D2N Mataking Reef Dive Resort
Highlight
Private beach, non-resident guests are not allowed to enter the island
A post office under the sea for diving enthusiasts (about 30 meters deep)
Included
Schedules Return trip of Land & Boat Transfers on the Actual Check-In Date & Actual Check Out Date, full board meals, free flow coffee/tea and light snacks, Semporna Jetty Fee, Selected Accommodation with Air-conditioning, Fresh Water Hot Shower and attached bathroom
---
Description
Mataking island is located in the Celebes Sea in the southern part of Sabah, Malaysia and it is also one of the most popular islands in Semporna town. The Reef Dive Resort Mataking is built on a private tropical island and is strictly allowed only for in-house guests. The need for privacy and tranquility is absolutely met for you to enjoy the embrace of nature.
Mataking Island is composed of two islands, the big (Mataking Besar) and the small (Mataking Kecil), but the area is only 40 acres. During the low tide, the sand bridge connects the two islands that are separately 500meter distance and forms a trailing white sand beach for walking on the water. Unlimited snorkeling in the crystal clear sea, surrounded by tropical fish and the colorful underwater world. You can also be swinging on the sea and enjoy family fun. The post office located under the sea is the most attractive point for those diving enthusiasts from all over the world. Divers put their sealed letters into the mailboxes on the bottom of the sea. The staff will collect them regularly and mail your letters. Shortly after, you will receive a letter from the sea to yourself.
Mataking is listed as a national turtle sanctuary. Every year from April to September, the turtles will enter the ashore to lay on their eggs. The staff will transfer the eggs to the hatchery for protection. After a few weeks, the baby turtles will hatch and move back to the sea.
Malaysian:
Non-diver package

3D2N

4D3N

5D4N

Garden View Deluxe / Premium Room

Adult: MYR 1620

Child: MYR 810

Adult: MYR 2310

Child: MYR 1155

Adult: MYR 2995

Child: MYR 1500

King Chalet / Semi-Detached Beach Chalet / Beach Chalet / Villa

Adult: MYR 2060

Child: MYR 1030

Adult: MYR 2975

Child: MYR 1490

Adult: MYR 3895

Child: MYR 1950
| Diver Package | 3D2N | 4D3N | 5D4N |
| --- | --- | --- | --- |
| Garden View Deluxe / Premium Room | 1935 | 2790 | 3645 |
| King Chalet / Semi-Detached Beach Chalet / Beach Chalet / Villa | 2375 | 3465 | 4550 |
International:
Non-diver package

3D2N

4D3N

5D4N

Garden View Deluxe / Premium Room

Adult: MYR 2355

Child: MYR 1180

Adult: MYR 3030

Child: MYR 1515

Adult: MYR 3735

Child: MYR 1870

King Chalet / Semi-Detached Beach Chalet / Beach Chalet / Villa

Adult: MYR 2775

Child: MYR 1390

Adult: MYR 3635

Child: MYR 1820

Adult: MYR 4525

Child: MYR 2265
| Diver Package | 3D2N | 4D3N | 5D4N |
| --- | --- | --- | --- |
| Garden View Deluxe / Premium Room | 2770 | 3645 | 4480 |
| King Chalet / Semi-Detached Beach Chalet / Beach Chalet / Villa | 3205 | 4280 | 5305 |
Child 3 - 12 years old
Rates are based on Twin/Triple/Quad basis and based on SIC (sit-in coach) basic
Child rate counted based on YEAR OF BIRTH only. Child MUST BE sharing room with 2 adults
Rates are subject to change without prior notice at the discretion of the government (if Any)
Villa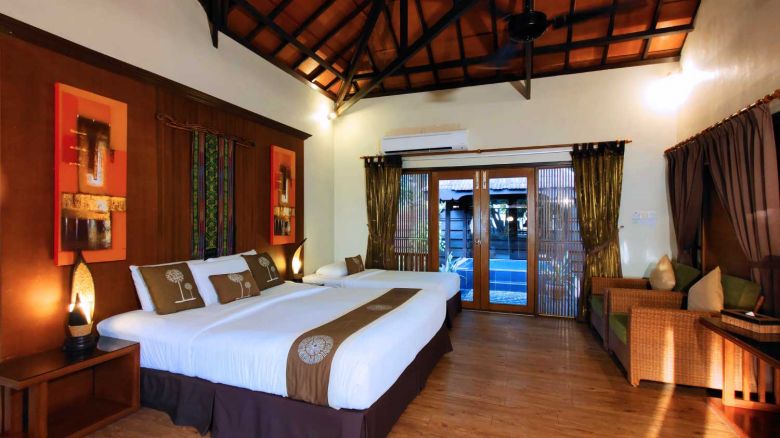 Beach Chalets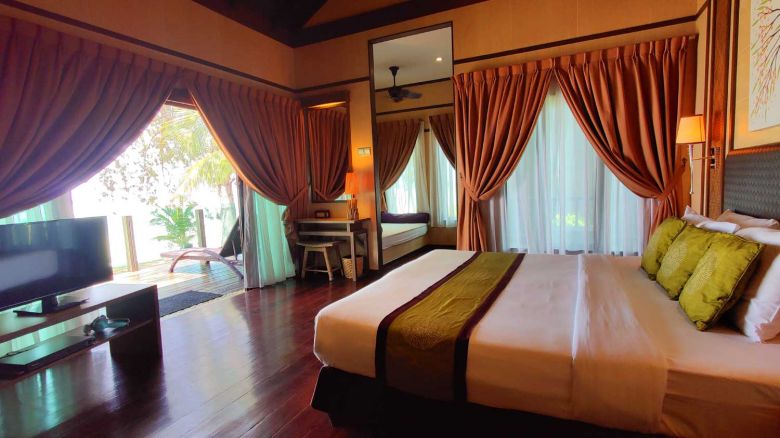 Semi Detached Beach Chalet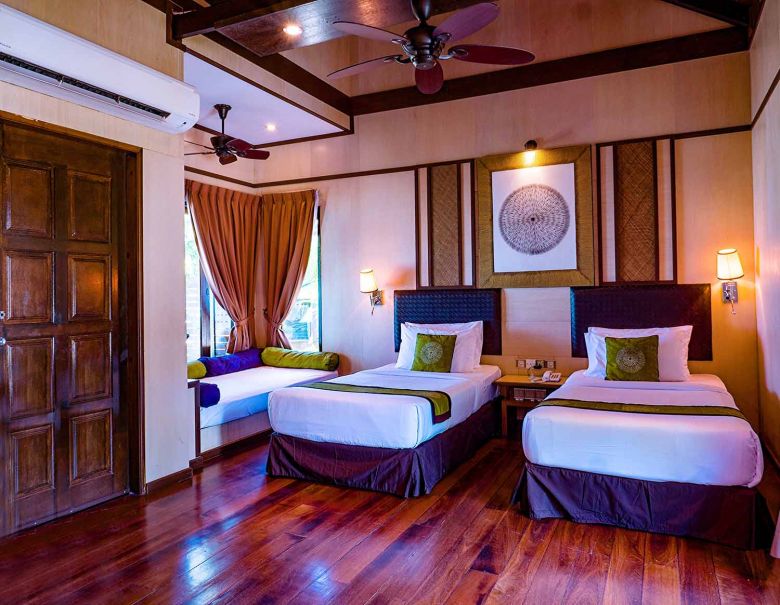 King Chalets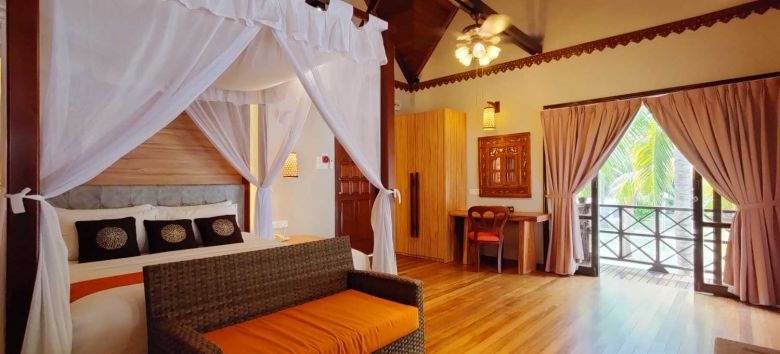 Garden View Deluxe East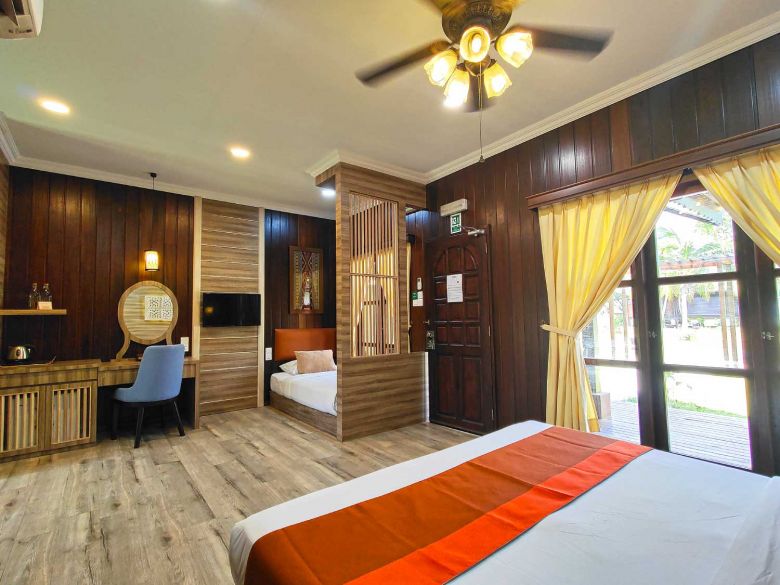 Premium Room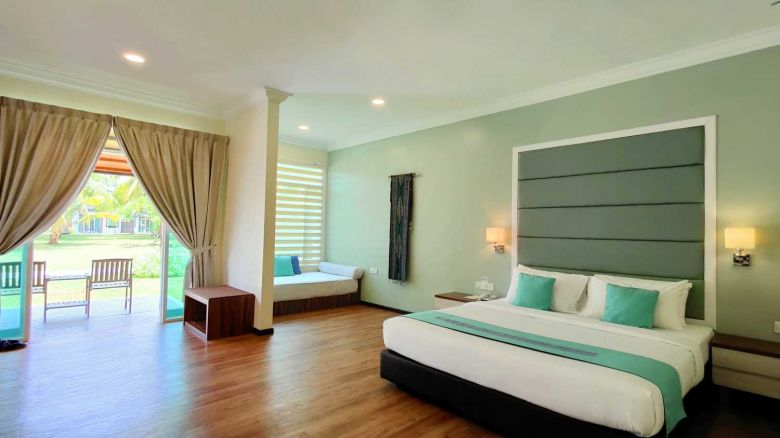 The reference price for rental equipment: Actual price is subject to the resort
Snorkeling mask set Rm21

Fin Rm21
BCD Rm25
Regulator Rm30
Booties Rm15
Dive suit Rm25
The reference price for facilities at your own expense: Actual price is subject to the resort
Discover scuba diving (2 hours) Rm330/pax

Kayak (transparent) 1seater Rm50/hrs
Kayak (transparent) 2seater Rm60/hrs
Fishing Trip 2-4hours Rm500-Rm800
Massage Spa Rm90-Rm700
NOTICE:
SOP - THE REEF DIVE RESORT (MATAKING ISLAND)
Although the Sabah government has exempted all vaccinated adults from swab tests since December 2021, our Mataking Island Resort requires all travelers to do swab tests (either RTK-Antigen or RT-PCR at the Clinic / Lab ONLY - NOT self-test kit) within 3 days before departure for premise entry.

Travel Requirements (by the Reef Dive Resort, Mataking Island)
MySejahtera status for each individual must be in 'Low Risk No Symptom' & 'Fully Vaccinated'
ALL travelers including SABAHAN & INTER-STATE travelers (for West Malaysia, Sarawak, and Labuan entry to Sabah) MUST undergo Covid-19 RT-PCR or RTK-Ag negative test results (nasopharyngeal or saliva) within 3 days before departure date and must be verified by the clinic/lab conducting the test for premise entry.
Important Note:
Only fully vaccinated travelers can be accepted into the resort
Child below the age of 12 years old must be accompanied by fully vaccinated parents/guardian
Youth between the ages of 12-18 years old receiving at least one dose of vaccination
Guest will bear the cost of transportation if symptomatic during the stay and tested positive
All travelers MUST BE fully vaccinated, the check-in date must be 14 days after receiving the second dose
Traveling date change subject to approval & charges
The Management reserves the right to alter, amend, delete or add to these conditions or withdraw the package at any time without prior notice
Mandatory by the law of Malaysia Tourism Tax (MyTTx) - only applies to Non-Malaysian / International (with Foreign Passports)
Flat rate of RM 10.00 per room per night will be collected directly from all foreign guests by cash at the resort on behalf of Royal Malaysian Customs effective 1st September 2017
This fee is necessary for the Country to carry out the development, enhancement, maintenance, and promotion of tourism in Malaysia
Cancellation Policy:
2 times of postponement of dates for Mataking Island is subject to room availability. Require to inform Sales Office at least TWO weeks before original check-in date
For a booking less than 4 pax, it must comply with the existing land and boat schedule available. Otherwise, the booking can be rescheduled or canceled. Paid booking will be refunded in full if the booking is being canceled in such circumstance
Itinerary
* The itinerary is for reference only, it subjects to any necessary changes in accordance to local requirements.
---
How to Pay
---
Additional information
Min. Participant(s): 2 Persons To Go (child does not counted)

Tour location / Depart from: Tawau (Semporna) . To reach Tawau city, you have to take a domestic flight or bus express from Kota Kinabalu or Sandakan. There are direct flights from Kuala Lumpur International Airport too.

Recommend to book: 1 month(s) in advance

To book at least: 30 day(s) in advance

Cancellation & Refund Policy: Booking cancellation policy In the event of cancellation, the following cancellation shall applies Confirmation date to 8 days before actual check-in date 10% deposit of the trips full price forfeited. 7 days to 01 day before actual check in date 50% of the trips full price forfeited NO SHOW on check-in day of customer 100% of the trips full price forfeited..

Tour Type: Private trip. You group will NOT share the trip with other guests.

Insurance: Tourist transportation insurance included. Please contact your insurance agency for personal travel insurance.

Pickup Service: Pickup service will be provided from the hotel/hostel/lodge that you are staying. Please wait at lobby while the tour guide will find you when he/she arrive. Dropoff service will be provided after travelling, please notify us upon booking if your dropoff location is differ from pickup location.

Specialities: You may decide the joining date, no compulsory tips (If you are happy and satisfied with the journey and the tour guide service, it's always a nice way to express your appreciation with tipping, OR words of thanks is good enough).
---
How may we help you?